Unique. Individual. Perfect on every inch.
Our beanbags and lounge furniture offer you the highest comfort and the best quality - and can be completely customised. Printed with your design, you get a piece of furniture that fits you perfectly. And you can change it at any time thanks to the exchangeable cover.
This is how full service works
Top quality: promised!
We make no compromises when it comes to quality. After all, we want our products to inspire you for a long time. And we do a lot to ensure this: for all materials, from the cover to the filler, we make sure that they are produced to the highest standards and withstand the many stresses and strains of living.
In addition, we are also there for you with many other free services. You want an individually printed piece of furniture? We are at your side from the idea to the finished product. If you have questions about the design, need help creating the print data or want to order additional filling material later - we are there for you!
Personal contact is important to us - this is also especially true for our suppliers. We are in close dialogue with them in order to constantly develop our quality standards and quickly implement new requirements. This way, we can always offer you the best products - made in Germany, of course.
Your individual print
One of our specialities is the full-surface printing of seating furniture using dye sublimation printing. Of course, this is also possible from just one piece. We use a robust, high-quality textile as the basis for this, which we finish digitally with dye-sublimation printing. This printing process makes it possible to reproduce even very detailed motifs with pin-sharp clarity. The colours remain brilliant for a long time, are lightfast and do not fade even when washed. Your design is first applied to a transfer foil and then vapourised into the textile under pressure and heat. The result is a colour-intensive image that does not stand out noticeably. The print is a guarantee for very high durability, even in sunlight. In addition, colour fading or bleeding of the designs is impossible. With 250 g/m, our textile is nice and soft, but can still withstand a lot. Our furniture covers are made of our ECOtent by my-lounge 40% REPREVE® recycled content and 60% polyester. The textile feels pleasantly soft and yet is extremely robust. The "lotus effect" prevents liquids from penetrating and lets them simply roll off. The UV resistance protects against fading in the sun. Your furniture is therefore ideally suited for outdoor use. All covers are flame retardant (B1) and have Ökotex.
Best service from A - Z
Not everyone is a printing professional - but everyone should have the chance to have individual furniture! That's why we are at your side for all questions regarding your layouts and print data. If you wish, we can create a 3D layout of your desired motif free of charge so that you can see how it will look on the finished beanbag or other piece of furniture. Our professional data check and other services, such as our logistics solutions, ensure that everything runs smoothly and that your product looks the way you want it to and arrives at its destination.
If you have any questions or need help:
We are at your service from Monday to Friday from 08:00 to 17:00 by phone on 06134 29 112 - 0. Or just drop us an email whenever you like at info@my-lounge.de or use our contact form.
Discover what makes our printed lounge furniture so special.
Custom designs from 1 piece
.
Chilling, comfortable and with an individually designed cover, truly unique:
. You can have our beanbags and beanbag cubes printed with a motif of your choice. From 1 piece. In this way, the piece of furniture adapts to your style, your mood and your desire. And fits in perfectly with the ambience everywhere. Indoors and outdoors. Large or small. For humans and animals.
Removable cover with separate inner bag
.
The beanbag cover is available in plain colours, in various designs or with your own personal motif. And it is replaceable. This means that you can easily remove it from the inner bag, wash it or replace it with another cover. And if you like, you can also take the opportunity to adjust the inner bag, which is filled with wonderful airpop® beads, to your sitting habits. Simply by adding filling material for a tighter, firmer seat or by removing some of the filling material for a particularly flowing seat feeling. Sounds good? It is.
High-quality materials for a long, relaxed sitting experience
.
Those who know our beanbags know how comfortable they are to sit and lie on. Most of the time, you don't even want to get up, you just want to lounge around on it all the time. That's why we have chosen a beautifully soft, yet particularly robust textile for the outer cover. In all our premium lounge furniture, we now use 40% REPREVE® recycled fibres to give you the best and most sustainable comfort. At 250 g/m, it can take quite a beating and its high-quality coating also prevents liquids from getting inside. It is also colourfast and lightfast. So our beanbags are a lot of fun for a long time, even as outdoor furniture. And should it ever get dirty: Simply take the cover off and put it in the washing machine!
Premium quality filling
.
Incredibly flexible, sensationally comfortable: each of our beanbags has a separate inner bag filled with wonderful airpop® beads. These little beads flow around your body and always adapt to your sitting or lying position, supporting the body and making your stay on the beanbag a highly comfortable affair.

airpop® beads are made of environmentally friendly, recyclable, food-safe material and do not contain any harmful components such as the flame retardant HBCD (hexabromocyclododecane). In addition, they are extremely robust and will not lose their shape in a hurry. If required, you can also buy this great filling material separately from us.
Washable covers
.
Our beanbags bring life to the place. And where there is life, sometimes things go wrong. That's why we use an easy-care textile for the outer cover that can easily withstand machine washing at 30 degrees. Simply remove the cover from the bag, put it in the wash and look forward to a clean result.
Made in Germany - made with love
.
To be able to offer you the best quality with the highest relaxation factor, we maintain intensive partnerships with our suppliers and constantly develop the materials for our beanbags together with them. From the changeable cover to the filling. In this way, you always get a top product that you can enjoy for a long time. And because it is especially important to us, our beanbags and lounge furniture are of course made in Germany.
Best service for the best customer in the world: you!
At my-lounge.de, we not only offer you comfortable and super high-quality lounge furniture, but also many services. For example, we can create free 3D layouts of your designs on request and are also happy to advise you on all our products.

To ensure that everything runs optimally with your print, we also offer you a data check by our professionals and are also there for you with all other questions.

You can call us Monday to Friday from 08:00 to 17:00 on 06134 29 112-0 or simply send us an email to info@my-lounge.de or contact us via our contact form. Of course, this works around the clock.
Individual shipping solutions: so that your order doesn't get shipped
.
If you're ordering large quantities, want to ship abroad or are interested in dropshipping options, flexible logistics solutions are one of our specialities. We ship all over the world and are sure to have a solution for your requirements. Just contact us!
Consumers do not have to pay any shipping costs within Germany.
---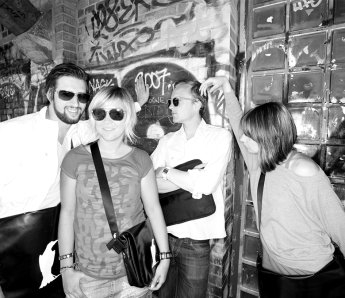 We make the appearance of your lounge product unmistakable and unique. You can rely on it
.
Because with us you don't just get high-quality products, but also the best service from A to Z. We bring the most creative ideas and a lot of experience to the table, as well as well-founded know-how. We are your experts for cosiness and relaxed hours!
Made in Germany100%

Full-surface dye sublimation printing100%

Tailor-made logistics solutions90%

Custom-made products60%
A good design stands out. It creates sympathy and makes your lounge furniture really great. This works best when it awakens feelings and desires, generates trust and is unmistakable. This is precisely our speciality: we offer you the ideal tools to present yourself in an individual and original way.
We at my-lounge.de support you from the idea to the finished, individually designed product - and offer many services free of charge. Because we not only manufacture comfortable seating furniture with your desired motif, but are also an experienced and creative partner for comfortable, innovative advertising of strong brands.
Projects
---
We have already implemented this successfully.
Beanbags
---
Saw the light of day with us.
Customers
---
Were we able to support your brand presence so far.
Percent
---
Let's give to support your brand.
"Our projects with my-lounge.de are fast, reliable and based on partnership. That's how we imagine great cooperation!
The customer is always the focus and thanks to competent contact partners with great articles, every wish is implemented. Price and performance are top and highly recommendable!
"
Brian Cremona | Corporate Gifts
"Where can you get high-quality eye-catchers with added benefits? Ask for My-Lounge.de and their premium lounge products."
Philip Steinbach | Suggle
Your opinion counts
Would you also like to give us your opinion? We welcome your feedback on our products and our service, because that's the only way we can improve.
Visit us
Just come to our showroom and we will be happy to advise you in a personal conversation.
CROW'n'CROW GmbH & Co. KG
Christof-Ruthof-Weg 6
55252 Mainz-Kastel
Call us
You are welcome to contact us by phone. We are at your disposal on +49 (0) 6134 / 29112 0 on weekdays from 08:00 - 18:00.