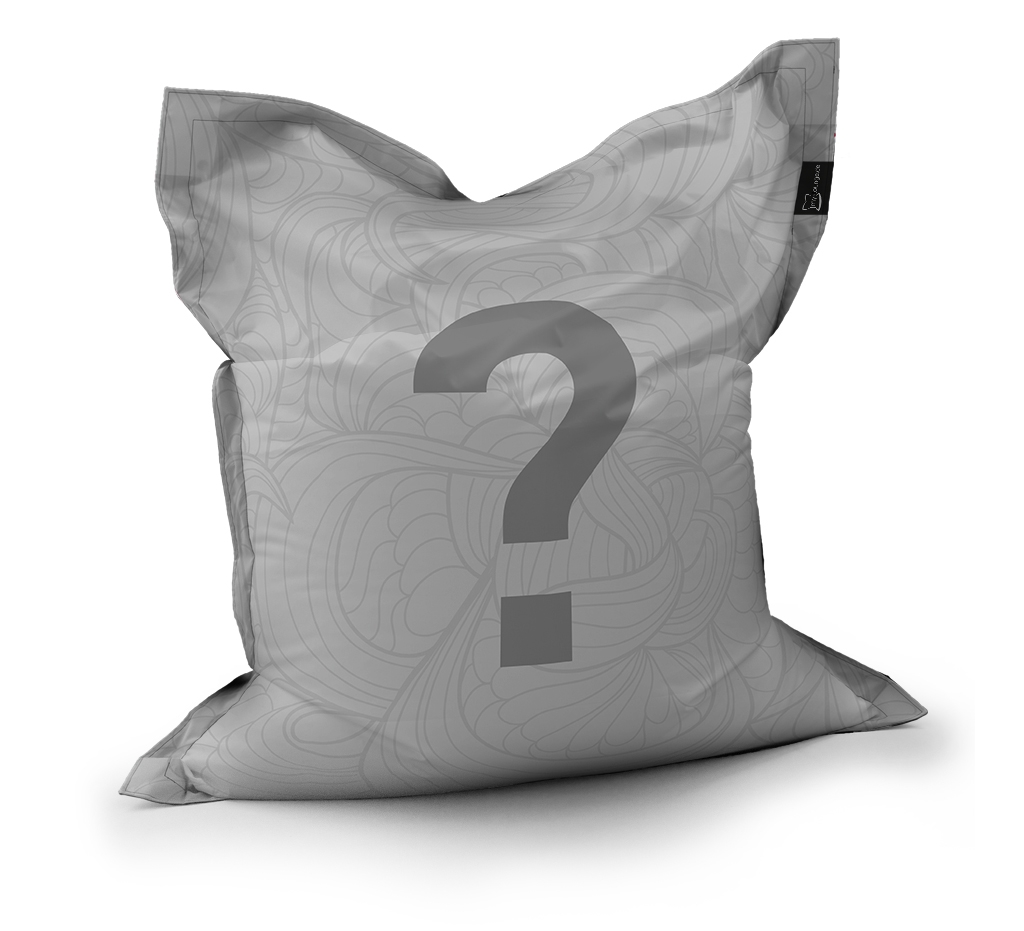 Printing methods and data
What is dye sublimation printing?
We use dye-sublimation printing for the full-surface printing of our beanbags and lounge furniture in order to achieve the most detailed motifs possible, the highest colour brilliance and first-class contour sharpness.
.
Your design is first applied to a transfer foil and then vapourised into the textile under pressure and heat. The result is a colour-intensive image that does not stand out perceptibly. The print is a guarantee for very high durability, even in sunlight. In addition, colour fading or bleeding of the designs is impossible.
Production close to your Pantone, RAL or HKS colours is therefore possible, just ask us! In thermal transfer printing, it makes no difference whether your motif is created in 1C or 4C, as each printing colour is composed of CMYK.
A production close to your Pantone, RAL or HKS colours is therefore possible.
What do you have to keep in mind for content and profiles?
Please embed all content in your print data and convert all fonts into paths. We check all submitted data for technical errors and produce a free 3D layout for you before every production.
Which file formats do we process?
Please send us your print data as:

- PDF
- AI
- TIF
- PSD
The resolution should be at least 100 ppi
.
Please use only our stand sketches (templates) for the creation of your own print data, which you can download on the respective product page
.
Which textile is used?
In all our premium lounge furniture, we now use 40% REPREVE® recycled fibres to give you the best and most sustainable comfort. REPREVE® fibres are made from plastic bottles collected from coastal waters
.
The 250 g/m textile feels pleasantly soft yet is extremely robust. The "lotus effect" prevents liquids from penetrating and lets them simply roll off. The UV resistance protects against fading in the sun. Your furniture is therefore ideally suited for outdoor use.
All covers are flame retardant (B1) and have Ökotex.
Which filling is used?
Expanded polystyrene, better known as Styrofoam, is now called airpop®.
We use aipop® to fill our beanbags. The beads hug the silhouette of the body and offer first-class seating comfort. The virgin beads hold their shape much longer compared to shredded styrofoam, so you can enjoy our loungers much longer!
airpop® is environmentally friendly and can be recycled seven times. The material is harmless and is also used in the production of food packaging because it is free of the banned flame retardant hexabromocyclododecane (HBCD).
What is PUR foam?
The cores of our seat cubes are made of PUR foam.
.
We use a foam with a density of 28 kg/m³ and a compression hardness of level 70. This mixture offers you good stability and high seating comfort. Even after long periods of stress, the cube core returns to its original shape.
PUR foam is dust-free and toxicologically completely harmless. The foam is also certified with Ökotex.
How do I care for my product properly?
You can simply wipe off light dirt with a damp cloth.
If this is not enough, you can machine-clean all furniture covers, because the cover is easy to remove thanks to the separate inner bag or the foam core.
When washing, use a gentle wash programme at 30°. Caution: With repeated washing, the covers lose their water-repellent coating over time. A laundry can restore the protection by impregnating.
Do not spin
. Do not tumble dry
Do not iron
Do not chlorinate
Do not dry clean
Recyclable
What is a data check?
If you wish, we can check all your submitted data for technical errors and produce a free 3D layout for you before each production.
.
This service is free of charge
.
Who helps you with the design?
We are happy to help and advise you with the design of your print data.
This advice is free of charge. However, you may be charged for the creation of more complex data. In such a case, our sales team will of course contact you in advance.
.
Who takes care of the logistics?
We are happy to help you with the logistical planning and execution of your order with higher quantities. With our experienced partners for individual shipping and large freight volumes, it is possible for us to get your goods from A to B cost-effectively, quickly and in an environmentally friendly way.
Due to the size of the package, we ship our beanbags in small quantities only with DHL. Please note that scheduled deliveries are not possible.
How big are the packages?
For individual shipments within Germany, we offer 2 cardboard boxes which are already included in the product price.
The packages of our beanbags are 60 x 60 x 120 cm and weigh about 10 kg. Of course, 2 - 3 seat cubes fit in here as well.
The packages of our cubes size 30 - 45 are 45 x 45 x 90 cm.
How much are the shipping costs?
Non-commercial customers within Germany do not pay shipping costs.
For all deliveries within and outside the EU, please contact our customer service
.
Explore what makes our printed lounge furniture so special.
Custom designs from 1 piece
.
Chilling, comfortable and with an individually designed cover, truly unique:
. You can have our beanbags and beanbag cubes printed with a motif of your choice. From 1 piece. In this way, the furniture adapts to your style, your mood and your desire. And fits in perfectly with the ambience everywhere. Indoors and outdoors. Large or small. For humans and animals.
Removable cover with separate inner bag
.
The beanbag cover is available in plain colours, in various designs or with your own personal motif. And it is replaceable. This means that you can easily remove it from the inner bag, wash it or replace it with another cover. And if you like, you can also take the opportunity to adjust the inner bag, which is filled with wonderful airpop® beads, to your sitting habits. Simply by adding filling material for a tighter, firmer seat or by removing some of the filling material for a particularly flowing seat feeling. Sounds good? It is.
High-quality materials for a long, relaxed sitting experience
.
Those who know our beanbags know how comfortable they are to sit and lie on. Most of the time, you don't even want to get up, you just want to lounge around on it all the time. That's why we have chosen a beautifully soft, yet particularly robust textile for the outer cover. At 250 g/m, it can withstand a lot and its high-quality coating also prevents liquids from getting inside. It is also colourfast and lightfast. So our beanbags are a lot of fun for a long time, even as outdoor furniture. And should it ever get dirty: Simply take the cover off and put it in the washing machine! Our Eco Tent with 40% recycled material is not only comfortable, robust and strong in print - no - you are also doing something good for the environment!
Premium quality filling
.
Incredibly flexible, sensationally comfortable: each of our beanbags has a separate inner bag filled with wonderful airpop® beads. These little beads flow around your body and always adapt to your sitting or lying position, supporting the body and making your stay on the beanbag a highly comfortable affair.

airpop® beads are made of environmentally friendly, recyclable, food-safe material and do not contain any harmful components such as the flame retardant HBCD (hexabromocyclododecane). In addition, they are extremely robust and will not lose their shape in a hurry. If required, you can also buy this great filling material separately from us.
Washable covers
.
Our beanbags bring life to the place. And where there is life, sometimes things go wrong. That's why we use an easy-care textile for the outer cover that can easily withstand machine washing at 30 degrees. Simply remove the cover from the bag, put it in the wash and look forward to a clean result.
Made in Germany - made with love
.
To be able to offer you the best quality with the highest relaxation factor, we maintain intensive partnerships with our suppliers and constantly develop the materials for our beanbags together with them. From the changeable cover to the filling. In this way, you always get a top product that you can enjoy for a long time. And because it is especially important to us, our beanbags and lounge furniture are of course made in Germany.
Best service for the best customer in the world: you!
At my-lounge.de, we not only offer you comfortable and super high-quality lounge furniture, but also many services. For example, we can create free 3D layouts of your designs on request and are also happy to advise you on all our products.

To ensure that everything runs optimally with your print, we also offer you a data check by our professionals and are also there for you with all other questions.

You can call us Monday to Friday from 08:00 to 17:00 on 06134 29 112-0 or simply send us an email to info@my-lounge.de or contact us via our contact form. Of course, this works around the clock.
Individual shipping solutions: so that your order doesn't get shipped
.
If you're ordering large quantities, want to ship abroad or are interested in dropshipping options, flexible logistics solutions are one of our specialities. We ship all over the world and are sure to have a solution for your requirements. Just contact us!
End consumers pay no shipping costs within Germany.
---
Visit us
Just come to our showroom and we will be happy to advise you in a personal conversation.
CROW'n'CROW GmbH & Co. KG
Christof-Ruthof-Weg 6
55252 Mainz-Kastel
Call us
You are welcome to contact us by phone. We are at your disposal on +49 (0) 6134 / 29112 0 on weekdays from 08:00 - 18:00.